Transportation - DOWNTOWN IN MOTION Salt Lake City Downtown Transportation Master Plan
Welcome to the DOWNTOWN IN MOTION (DIM) Website!
Salt Lake City, UTA, RDA, the Salt Lake Chamber & Downtown Alliance, and UDOT funded the development of a Downtown Transportation Master Plan.
These organizations and a team of consultants have completed a comprehensive, coordinated, long-term transportation strategy for downtown Salt Lake City that covers all interrelated elements of the transportation system over the next 25 years. The plan incorporated input from a comprehensive public process and contains recommendations for mobility improvements for pedestrians, bicyclists, automobiles, buses, light rail and commuter rail operations. The plan complements Salt Lake City's land use policy, and focuses on solutions that are easy to understand, accessible, affordable and adoptable, in response to the tremendous growth currently underway and forecasted to continue.
The master plan can be viewed by clicking on the DIM Document link below.
This master plan document was adopted by the City Council on November 6, 2008.
Basic Facts:
Current metro area population is approximately 1.9 million.1
The downtown transportation study area is approximately 1,800 acres.2
Downtown population, including the area from North Temple to 900 South and from I-15 to 700 East is approximately 13,5003; downtown employment is approximately 58,750.4
The University of Utah with 30,000 students and 12,300 employees is two miles east of downtown.
Salt Lake City has 6,583,000 square feet of office space in the core of downtown and 3,425,000 square feet of office space in the periphery of downtown.5
Salt Lake City has a history of business community sponsored planning. These plans have included:

The Second Century Plan, developed in 1965, by the Salt Lake Area Chamber of Commerce detailed a strategy to increase tourism to downtown.
A R/UDAT in 1988 resulted in the current downtown master plan, adopted in 1995. It will be updated 2007 in conjunction with the 2006 Chamber of Commerce Downtown Rising visioning process.

Salt Lake City rewrote the downtown zoning code in the 1990's. The rewrite put more emphasis on design issues and decreased parking requirements within the downtown core.
Salt Lake City adopted a citywide Transportation Master Plan in 1996.
Land Use Controls:
Virtually all urban land uses are permitted throughout downtown. In the warehouse district, office uses are not permitted in more than 50% of the building. In the mixed-use neighborhood east of downtown, office uses are limited to two or three floors (depending on the zone district). In the residential neighborhood southeast of downtown, office use is forbidden. In the Gateway district, residential uses are required in 50% of the space built along 500 West Street.
The major design control used by Salt Lake City is building height. Maximum building heights (assuming conditional use approval in some cases) are:

375'+ at corners in the commercial core with a minimum height of 100'
100' + on non-corner properties in the commercial core
120' in the Gateway mixed use district and the residential mixed-use district east of downtown
90' in the Pioneer Park/Pierpont warehouse district
30' to 45' in the 700 East neighborhood

Within the commercial core, building height may be increased with conditional use approval if floors above the maximum height are set-back and 1% of the construction budget is devoted to public art.
In the CBD, buildings may not be set-back more than 5' for the first 100' of height
Retail is required in two downtown districts:

In the Main Street district (between West Temple and State Street north of 400 South Street), the first floor of all buildings must have active uses which are limited to retail goods or service establishments, restaurants, public service portions of businesses, department stores, art galleries, motion picture theaters or performing arts facilities. First floors must also have 60% non-reflective glass.
In the Gateway district, retail type uses are required in buildings fronting 200 South Street.
In the warehouse district, first floors must have 40% glass but a type of use is not required.

Parking structures within the commercial core must be set back at least 75' if located on a corner parcel or lined with retail space if located on a mid-block parcel. Surface parking and commercial parking structures require conditional use approval.
Driveways are not permitted on Main Street between South Temple and 400 South.
Parking:
Salt Lake City has approximately 2,000 on-street parking stalls in the downtown area.

One-half of these stalls are metered; the other half are free, but time-restricted.
Meters operate from 8 a.m. to 6.p.m., Monday through Friday; outside of the core, on-street parking is not metered.
Meters accept coins or parking tokens as payment.
Meters consistently cost $1/hour.

There are approximately 30,000 off-street parking stalls within downtown.

62% are available to the public. Most off-street parking downtown is privately owned and operated. Exceptions include parking for Library Square and the Salt Palace Convention Center.
Off-street hourly parking rates begin at $1 at the edge of downtown and go up to $4 within the downtown core.

The zoning code includes off-street parking requirements. Parking requirements within the downtown core are lower than on the downtown periphery. Core requirements are as follows:

Office—1 stall/1,000 sf minimum
Retail—1 stall/1,000 sf minimum
Housing—1/2 to 1 stall per unit minimum depending on location; 2 stalls per unit maximum in central core.

In 2005, the Downtown Alliance introduced a parking token program.

Tokens cost retail merchants $0.25 and are redeemed by the parking lot operators for $0.93. The face value is $1. To date, the City has covered the subsidy.
A token may be used to pay for a one-way transit fare.
86 merchants and 38 parking lots have subscribed to the token program.
Commercial parking lots within the commercial core that are not associated with another use must be part of the token program.

Conversion of a vacant lot to a private surface parking lot is a permitted use; conversion to a commercial surface parking lot is a conditional use.
Streets:
The major downtown streets are 132 feet wide; mid-block streets are 66 feet wide.
In the 1970's, the 500 and 600 South freeway access ramps were completed, providing auto access into downtown four blocks south and three blocks west of the center of town (approximately 1 mile). In 2001, new freeway access ramps were opened, dropping to street level three blocks further west. The 500 and 600 South freeway access streets are one-way.
All other downtown streets are two-way. The standard two-way street includes two travel lanes in each direction, left turn lanes and curb uses (parking, bus stops, taxi stands, loading zones, etc. on either side). However, there are many variations from the standard.
Signal cycle timing ranges from 90 seconds to 120 seconds on city streets and up to 180 seconds during peak travel times on State-owned arterials.
Salt Lake City allows taxi stands near major visitor attractions and hotels downtown. Cabs can also be hailed as they drive by, but it is rare that this happens.
Pedestrian Environment:
Approximately 3% of downtown commuters walk to work, but 29% of the people who live in downtown walk to work.6
The downtown blocks are 660 feet on a side.
Since the 1980's, the Redevelopment Agency of Salt Lake City has been acquiring rights-of-way for mid-block walkways when available.
Since the mid-1990's, the RDA has been working with landowners to create publicly accessible walkways adjacent to or through buildings on privately owned property.
From 2000 to 2004, Salt Lake City made a series of improvements to pedestrian safety. These included

The Orange Flag program, which provides bright orange flags at crosswalks and intersections.
Installation of pedestrian countdown timers at downtown signalized crosswalks.
Use of LOOK pavement markers at all downtown crosswalks.
Pedestrian-activated overhead flashing lights at non-signalized mid-block crosswalks.

Salt Lake City adopted a city-wide pedestrian master plan in 2004.
Bicycle Environment:
1% of downtown commuters bike to work.6
Salt Lake City first adopted a citywide Bicycle Master Plan in 1992; the plan was updated in 2004 in conjunction with the Pedestrian Master Plan.
There are bike lanes on the major streets downtown every 4 to 6 blocks. Painted bike lanes exist on 300 East, 200 West, 800 South and most of 200 South. Signed bikeways that share a lane with auto traffic exist on 600 East, 600 West and a portion of 200 South.
Starting in the Spring of 2007 there will be bicycle lockers available for rent at the Intermodal Hub and selected TRAX stations downtown.
The zoning code includes bicycle parking requirements.
Transit and Downtown Circulation:
 
13% of commuters access downtown on transit.6
The bus system was the backbone of the downtown transit system until the TRAX light rail system opened in 1999. Downtown remains a major transfer point for transit riders between buses and between buses and light rail.

Currently, by agreement with Salt Lake City, only a shuttle bus is permitted on Main Street. The Main Street shuttle runs on weekdays with ½ hour headways.
The streets that serve as downtown transfer locations for the regional bus system are North Temple, State Street, West Temple, 400 South, and 500 South.
Five bus routes cross town on 200 South connecting areas east of State Street to 300 West.

In 1999, the Sandy/Delta Center TRAX light rail system opened. In 2001, the University/Delta Center service began. The extension to the University Medical Center opened in 2003. An extension of both lines to the Intermodal Hub is planned to open in 2008.

Ridership on TRAX has always exceeded projections. Current ridership on the entire TRAX system is approximately 55,000 riders per weekday.
Both the Sandy/Delta Center and University/Delta Center trains operate on 15-minute headways. Trains are scheduled so passengers may make a timed transfer between the Sandy and University trains at the 300 South/Gallivan Utah Center Station.
Downtown stations occur at 2-block intervals (or approximately ¼ mile apart).

The Intermodal Hub opened in 2005. The Intermodal Hub is 6 blocks west of the core of downtown (or approximately 1 mile). Current passenger services at the Hub include Greyhound bus, Amtrak trains, taxi, and a few UTA bus routes.
A commuter rail line that will provide passenger rail access to the Intermodal Hub on diesel trains is under construction and scheduled to open in 2008 simultaneous with the extension of light rail to the Hub.
In 1985, UTA initiated the free fare zone downtown, as a local match to a federal grant received to expand the bus bays on Main Street to accommodate more than one bus at a time. The free fare zone was expanded in 1999 as part of the agreement to use a portion of the downtown right of way for rail tracks and stations.
All UTA buses and trains are accessible to the disabled. 84% of the bus fleet "kneels" to facilitate disabled boarding.

Bus operators announce major stops and transfer points, as well as intervals along a route that help orient passengers. The automated announcement system on rail announces all stops. Bus drivers verbally announce the route number to waiting patrons when a stop is served by more than one route.
UTA offers a paratransit service to qualifying disabled passengers.
Transit passengers who qualify for paratransit service and the person accompanying them ride regular transit at no charge.
---
Includes Salt Lake, Davis, Weber and Utah Counties; 2005 State of Utah Demographic Projections.
Study area extends from I-15 to North Temple to State Street to South Temple to 700 East to 900 South to I-15.
2000 Census population plus an estimated 1,150 people in the approx. 725 housing units opened since 4/1/2000.
Downtown worksite district, 2004, Utah Department of Workforce Services (extends to 1300 South).
CommerceCRG, Mid-Year 2006; periphery may include a larger area than study area.
2000 Census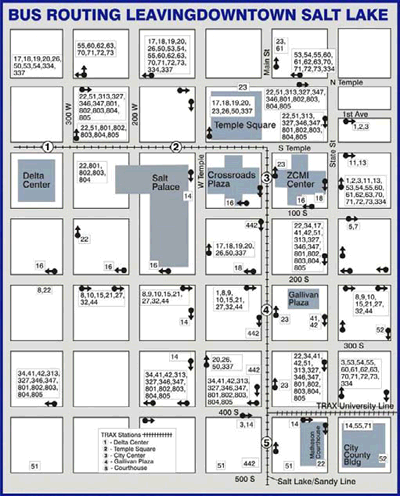 Source for Graphics: UTA
Salt Lake City, Utah Transportation Fact Sheet
Master Plan Area Boundary